Augmented Reality
MEng in Civil Engineering, Queen Mary University of London; MA in Industrial Design Engineering, Royal College of Art, DIC Imperial College
Louisa Stathopoulou is teaching Technology at Pierce – The American College of Greece, as well as coaching the Animation club. For the past 10 years, she has been involved in educational programs teaching Design, Technology and Digital Media in primary and secondary education as well as Product Design and Innovation in BA and MA courses in London and in Athens. She has been involved in European projects regarding new technologies and digital tools in education, coordinated teachers' trainings and created educational material. During the 11 years she resided in London she worked in various fields of design, such as industrial, interaction and exhibition design and she created public installations and exhibitions for both private and public clients.
CSI, Forensic Science
MSc in Environmental Biology from the University of Edinburgh in 2005, Ptychion in Biology Aristotle University of Thessaloniki
Evangelos Stamateris graduated from the Aristotle University of Thessaloniki with a Ptychion in Biology in 2004. He received a MSc. in Environmental Biology from the University of Edinburgh in 2005.  He worked at the Institute of Stem Cell Research of the University of Edinburgh from 2005 to 2007 and at the Biomedical Research Foundation of the Academy of Athens from 2007 to 2010. He has published research work in the fields of Stem Cell Technology and Gene Therapy. In 2010 he discovered another challenging and fulfilling discipline, that is to teach Sciences in young students. Since then he has been teaching Biology and Chemistry in secondary education schools. He joined the Pierce faculty in 2014.
From Microbiology to Anatomy
Biology Degree, School of Science, Aristotle University of Thessaloniki, Greece
Doctoral Degree in Psychoimmunology, Medical School, National and Kapodistrian University of Athens//Dept of Biopathology, 1st   Psychiatric Clinic, Eginition Hospital
Margarita Zogka has been a member of the Pierce Faculty since 2016, teaching Biology and Geography. She is also teaching Biology High level in the IB programme of Pierce since 2017. She has been a Research Fellow in the Department of Molecular Biology of Medical Biopathology and Immunology at Eginitio Hospital from 2006 to 2016 (Medical School, National and Kapodistrian University of Athens). She has also been a Research Fellow at Neurological Clinic of Eginitio Hospital during 2006-2009, (Medical School, National and Kapodistrian University of Athens) with special research interests relevant to neurological diseases and psychiatric disorders. She has participated in many national and international conferences and seminars. She has also published a significant number of research articles in international scientific magazines and she is a member of the Hellenic Society of Immunology and the World Psychiatric Association.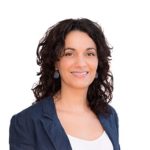 Leadership Stories

PhD in Management, London School of Economics and Political Science
Dr. Katerina Voutsina is an assistant professor and area coordinator of Entrepreneurship Management at the School of Business and Economics of Deree- the American College of Greece. Prior to joining Deree, she was a research fellow/lecturer in the Department of Management at the London School of Economics and a visiting lecturer at Warwick Business School. Her research interests focus on the cognitive, organizational and socio-economic aspects of technological innovation and entrepreneurship. In particular, new forms of organizing, strategic entrepreneurship, nascent entrepreneurship and socio-technical innovation lie at the gist of her research. Her work has been published in international referred journals and presented at international conferences. She has also served as a reviewer for scholarly journals and academic conferences, as well as a mentor in the Athens Center for Entrepreneurship and Innovation.

Maria Stivaktaki is a Computer Science teacher at Pierce Gymnasium with a Med from NKUA based on the use of digital technologies in Education. She is a member of the Greek Pedagogical Union, the Peer Counseling Association, and the E-diktyo team responsible for implementing new technologies in Education. She has taken part in various conferences in Greece and abroad, and her research interests lie in the fields of Computer Science and Digital Humanities.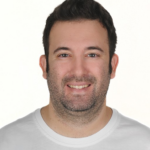 Research Associate | EO systems engineering 
Thanassis Drivas received his BSc in Computer Science from Athens University of Economics and Business in 2007. In 2017 he received his MSc title in Space Science, Technology and Applications from the University of Peloponnese, in collaboration with the National Observatory of Athens. He has long professional experience in teaching Computer Science in schools and colleges. At the same time he works as full stack developer. From 2017 he is a research associate in the Operational Unit of BEYOND Centre (Institute of Astronomy, Astrophysics, Space Applications and Remote Sensing of the National Observatory of Athens) focusing on the design of Earth Observation system and the development of geospatial applications using Big Earth Observation Data, Machine Learning and distributed systems.  He has been envolved in more than 10 European H2020 Projects and he has given a series of lectures and workshops regarding Programming, APIs, EO Data Cubes, Data Science and Machine Learning.
A biologist and a designer, with a diploma from the Uni. of Ioannina and a M.Arch GAD from the Volos School of Architecture, UTh. He is an expert on computational geometry, researching the application of systems thinking on morphogenesis, through the use of autopoetic design systems.  His base is Decode Fab Lab, in Athens, where he teaches codeart and plays with robots and form, more or less. Apart from that, he is an academic travelling salesman, in Nicosia, Innsbruck and Thessaloniki amongst others, where he has taught both architectural and computational design. He is fascinated by any design endeavor, be it an architectural project, a live media performance or a graphic novel.
He would like the world to be more like his sketchbook. His sketchbook is weird.