A journey in leadership, ethos, science and the arts!
Pierce Leadership Academy participants will get to know all that Greece has to offer, while enjoying the program's fully scheduled daily routine. 
Let Athens pleasantly surprise you!  
Get the chance to learn about the ancient Greek civilization, but also feel the vibe of the 21st-century Athens! Visit all the areas around the Acropolis, take an inspirational walk in Plaka, visit the Museum of Acropolis and, during the weekend, have a two-day trip to the amazing Sounio! 
At Pierce Leadership Academy, we ensure that each student enjoys a full cultural experience through the scheduled activities and field trips!
Day excursions are offered to all students. 
International students get to enjoy evening activities and weekend excursions focused on cultural, educational, and recreational sessions (including visits to museums, workshops and outdoor adventures). Day students may also participate in some the evening and weekend activities and experience some of the most exciting highlights of the PLA program.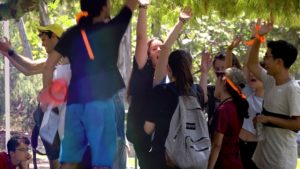 The team-building session consists of a combination of educational and outdoor fun activities! Students have the chance to connect, cooperate, and promote team communication and situational leadership, while discovering their classmates' hidden talents and strengths.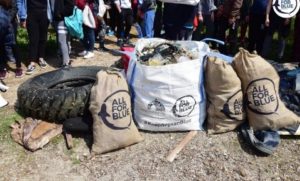 Through the AllForBlue workshop participants will learn how to protect the oceans and ways to keep the water clean. The scope of this activity is to educate future generations and prepare them for the big challenges ahead: Saving Earth's largest life support system!
Greek Island Experience – Full Day Excursion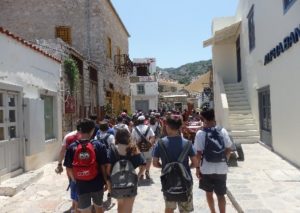 Time for… more fun! 
Students will visit Aegina for a full day Greek-island experience! PLA participants will have the chance to explore all the points of interest on the island and learn about its history and mythology while enjoying the sea, the sun, and the Greek summer life!
Trireme Olympias Experience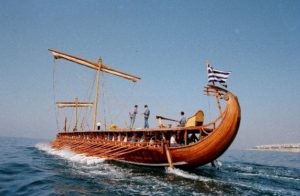 Sail as an emperor! Olympias is a reconstruction of an ancient Athenian trireme. It is a commissioned ship in the Hellenic Navy, the one and only commissioned vessel of its kind in any of the world's navies. Students have the opportunity to take part in this unique sail trip in the past and feel the thrill of rowing an ancient Trireme in the waters of the Saronic Gulf.